Aggregation of Cutting-Edge Functions
Aggregation of Cutting-Edge Functions
Revolutionary Technology Provides Full Control
Ultra-high-speed  Ultra-high-response
data sampling   crosshead control
10kHz    ×  1kHz
Equipped with Multi Processors and Multi Engines, Providing Ultrafast Data Acquisition and High Response Control
Shimadzu's proprietary control box is equipped with two processors and three engine units. It provides 1 kHz high response crosshead control and 10 kHz high-speed data sampling through high-level simultaneous parallel processing, based on a meticulous timing design, and the allotment of various communications, measurement, and control functions across multiple devices.
Leave Strain Rate Control to the Machine by Utilizing New Autotuning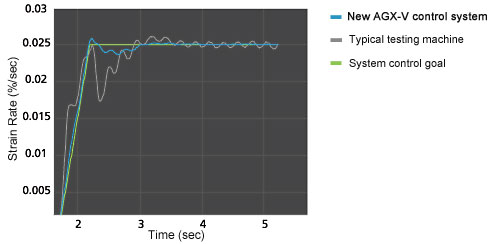 High-accuracy control is maintained under noisy, highly disturbed conditions, something that was hard to provide with conventional autotuning.
This high-level autotuning is achieved by using not only feedback measurement values but all measurement values in the calculations for real-time updates of the control model.
[Steel and Nonferrous Metal Testing]

Strain rate control, in which the rate of deformation measured by an extensometer is controlled to be constant, requires highly accurate control to follow rapid changes in material behavior.
Metal Tensile Test Standard: ISO 6892 (JIS Z 2241) specifies that the allowable range of increase in strain to the yield point is ± 20% or less. The strain rate control specified in ISO 6892 (JIS Z 2241) is possible*1 to achieve with the AGX-V for many materials.
[Practical Simulation Testing]

To maintain engine mounts and other rubber materials at a constant test force, it is necessary to gradually change the retention position to suit the characteristics of the test sample. In order to maintain the test force at a constant value, high control stability is required, with high control responsiveness and no vibrations generated due to excessive response.*2
[Free Running Compression Testing]

Stable control is achieved even in free running compression tests. In these tests, the compression indenter or bending punch is allowed to run free until it makes contact with the sample, at which point the load is increased up to a set test force. The overshoot of the target value is kept to 1 % or less of the indicated value even in free running compression tests of highly rigid materials, resulting in a high-accuracy test force retention.*2
*1 The graph is an example. The control accuracy may vary depen ding on the material properties and the surrounding environment . It does not guarantee accuracy.
*2 The graph is an example. The state of control can vary depen ding on the material properties and the surrounding environment .
Wider Range, More Detail, More Variety
Ultra-high-speed data sampling
10kHz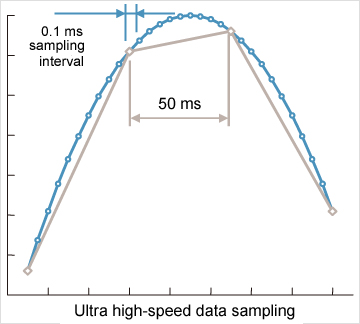 Captures Instantaneous Changes
The ultra-high-speed sampling function has progressed up to a sampling rate of 10 kHz (0.1ms). Sudden and tiny changes, such as when brittle materials break, can now be assessed.
Guaranteed test force range
1/2000
Reduces the Frequency of Load Cell Replacement
The guaranteed test force accuracy range has been enlarged to 1/2000 for an even wider range of data reliability. Even data from the very beginning of the test force application can be analyzed with confidence. Tests that previously required multiple load cell replacements to suit the test force are now supported by a single load cell, cutting back on replacement procedures and calibration expenses.
Maximum number of sensor inputs
20ch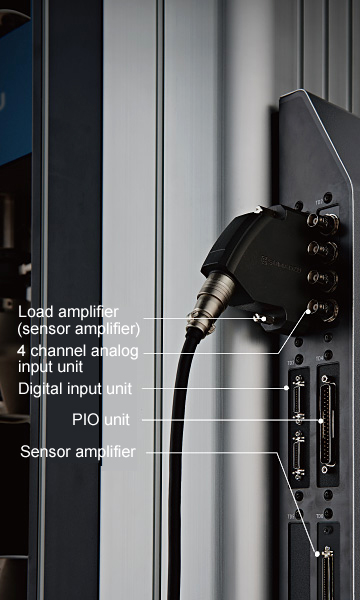 All the Data Are Synchronized and Acquired with High Accuracy A Data Logger is Not Required
The external input ports can be expanded to 20 channels. Analog input units and counter units can be selected, making it easy to acquire more data without a data logger. The load cell, extensometer, and external input ports are synchronized, and all channels are sampled simultaneously, improving the simultaneity of the data. This further improves the accuracy and reliability of the elastic modulus and other data calculated using two or more measurement values
Equipped with a Multi Joint*1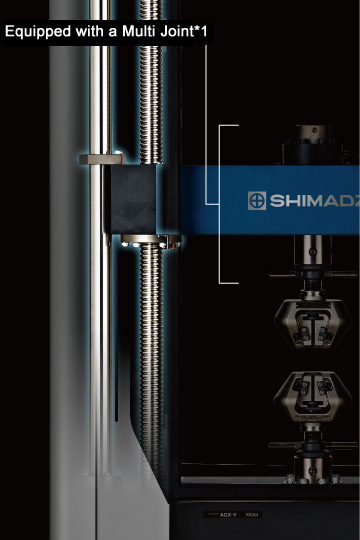 Improved Operational Safety and Efficiency
The replacement of joints and heavy test jigs is now unnecessary as small-capacity load cells can be attached. This reduces the workload and risks involved in handling heavy objects, and can reduce replacement procedures.
ASTM Class 10 Shaft Alignment Guaranteed, an Industry First*2 ASTM Class10
This machine provides CLASS 10 shaft alignment accuracy, as prescribed in ASTM E1012. High shaft alignment accuracy heightens data reliability for high strength materials and composite materials.
Rigid Joint Included as Standard
A rigid multi joint (fixed type) has been adopted in place of the typical universal joint. In addition to improving safety and convenience, the shaft alignment accuracy has also been improved, improving measurement repeatability.
Frame Design Provides High Rigidity and High Level Alignment
The newly designed guide column*2 is equipped with a support ring*2 that maintains a right angle with the table surface. As a result, measurement repeatability has been improved in tests of high rigidity materials and highly brittle materials, prone to the impact of frame rigidity or alignment, enabling stable testing.
​*1 Available table-top and floor models range from 300 kN to 20 kN.
*2 Only floor models from 300 kN to 20 kN are supported. Axial accuracy is guaranteed when the Shimadzu trial clamp and test specimen are connected to the main body of the tester.
The guaranteed accuracy range is up to the frame capacity (AGX -300 kNV up to 100 kN).