Operability that Takes the Shortest Path to Results
03 Operability that Takes the Shortest Path to Results
All Jigs are Easily Connected
The multi joint, which connects jigs to load cells, enables all jigs, including tensile, compression, and bending jigs, to be connected easily. The replacement of heavy joints is no longer needed, which simplifies the replacement of test jigs. A small-capacity load cell can be connected to the tip, so tests with small-capacity load cells can be performed with a large-capacity load cell attached as is.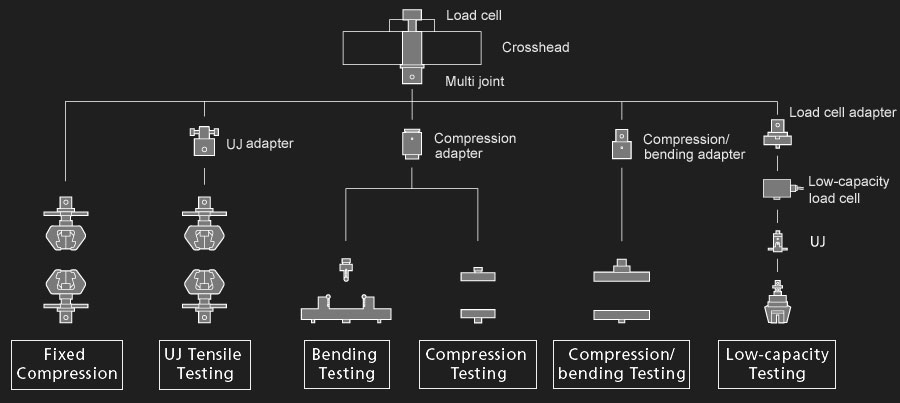 Smart Controller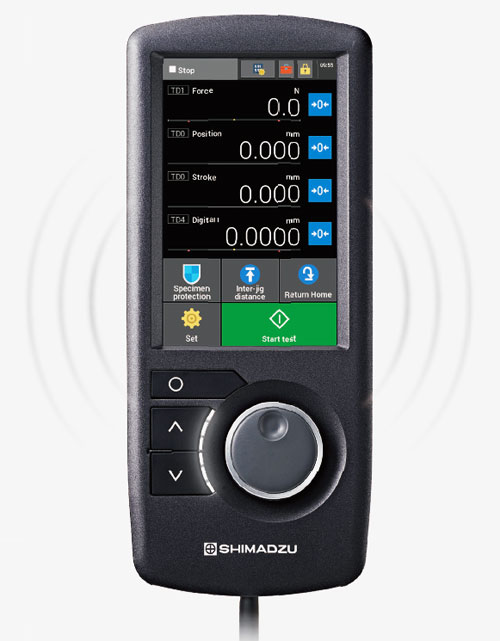 The controller is equipped with a touch panel LCD, which displays the optimal buttons and information for the situation. It shows a variety of operations and informational displays, including jig space adjustments prior to testing and confirmation of measurement values during tests. A universal interface standardized with the software has been adopted to support all kinds of testing by high operability and visibility.
Selection of operation sound according to environment
The special AUTOGRAPH operational sounds are adjustable. Select from a pleasant sound quality enhancing operational comfort or a sound that is easy to hear even in noisy conditions. (The sound can also be turned OFF.)
Voice alerts
A voice message warns the operator before the crosshead moves, preventing mistakes by the operator. (The sound can also be turned OFF.)/p>
Finish Settings and Operations with a Hand-Held Controller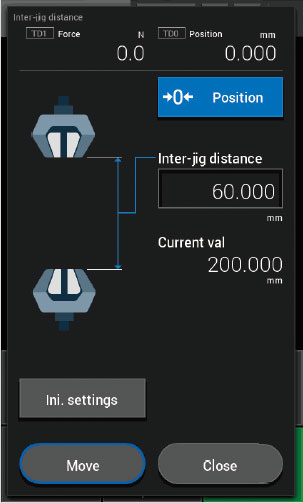 Configure Optimal Grip Space
Automatically
With the intelligent crosshead function, the crosshead moves to ensure a user-defined jig separation. The jig separation is constantly monitored to prevent impacts between jigs. (The jigs must be pre-registered.) Additionally, the jig separation movement can be performed automatically in accordance with the test conditions by interlinking it with TRAPEZIUMX-V.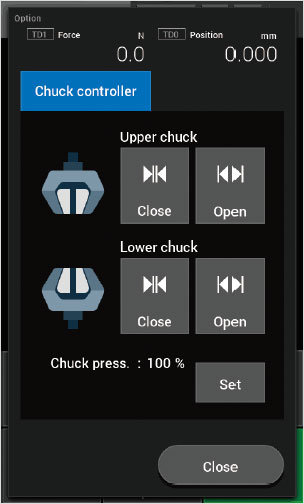 Perform the Opening/Closing of
Grips from a Single Controller
Using a hand-held controller, both pneumatic and hydraulic type grips can be opened and closed automatically. This controller improves productivity since everything needed to prepare for measurements, from crosshead movement and testing conditions settings to hydraulic adjustments, can generally be implemented.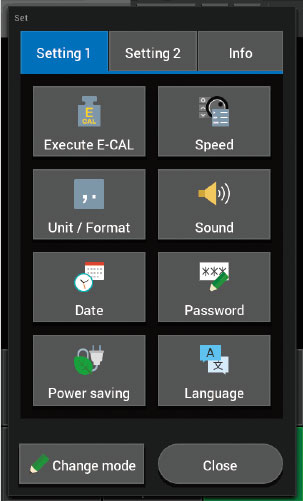 Check Detailed Settings with
a Hand-Held Controller
The user can check the overview of the test conditions, set the sound, configure power saving settings, and set the system language. In addition to improving operational efficiency, pop-ups that check operations prior to movement reduce the risk of operational mistakes.