Detector Splitting System
Advanced Flow Technology Series For More Accurate Identification and Higher Productivity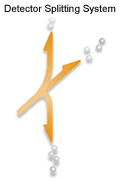 This detector splitting system is a part of the "Advanced Flow Technology" series of capillary column devices. This system incorporates hardware and software enabling the user to easily install, optimize and operate a GC system consisting of a single injection and analytical column that is split to multiple detectors.
Employs Inert Device with Low Adsorbent
The detector splitting device employs parts which have low dead volume and treated inert coating throughout the sample pathway. When combined with a high-precision digital flow controller, the device achieves detector spliatting with high repeatability.
The Software Makes It Easy to Set Complicated Analytical Conditions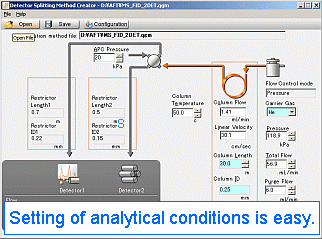 This specialized software allows easy development of analytical conditions. It does not require setup of initial conditions related to restrictors or detectors. After determining analytical conditions, you can save the conditions as a GCsolution or GCMSsolution method file.
This page may contain references to products that are not available in your country.
Please contact us to check the availability of these products in your country.