DI-2010
Direct Sample Inlet Unit
Simple approach to qualitative analysis of compounds
Suitable for analysis of refractory compounds and thermally unstable compounds.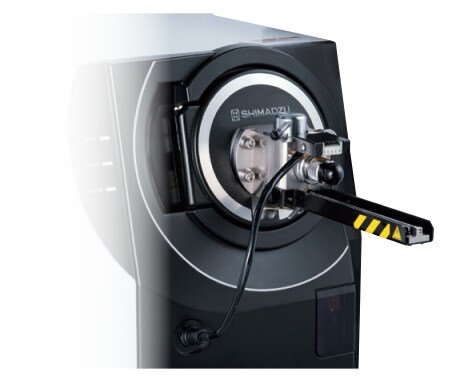 The direct sample injection method injects directly samples into ion source, without using gas chromatograph (GC). Refractory compounds and thermally unstable compounds, which are difficult to be analyzed with GC, can be analyzed with MS. In addition, there is no need to consider the gas chromatograph conditions, and the mass spectra can be easily obtained for high purity samples. It can be also used for CI/NCI analysis.

Available for analysis of resins and material-related samples (maximum temperature 500 °C).
The temperature of probe can be heated up to 500°C at 5 different programming speeds. DI2010 is applicable to various compounds such as resins and material-related samples. The mass range of the GCMS-QP2010 Ultra up to m/z 1090 is effective for large molecular weight compounds.

DI analysis is available without removing column in GC oven.
CI and NCI are available as well as EI for DI
* For the GCMS-QP2010 Ultra with CI, PCI/NCI
Simple operation
Set sample in injection probe.
Set the probe.
Insert the probe into ion source.
Start temperature control and start data acquisition .
This page may contain references to products that are not available in your country.
Please contact us to check the availability of these products in your country.