Engines, Motors, and Power Sources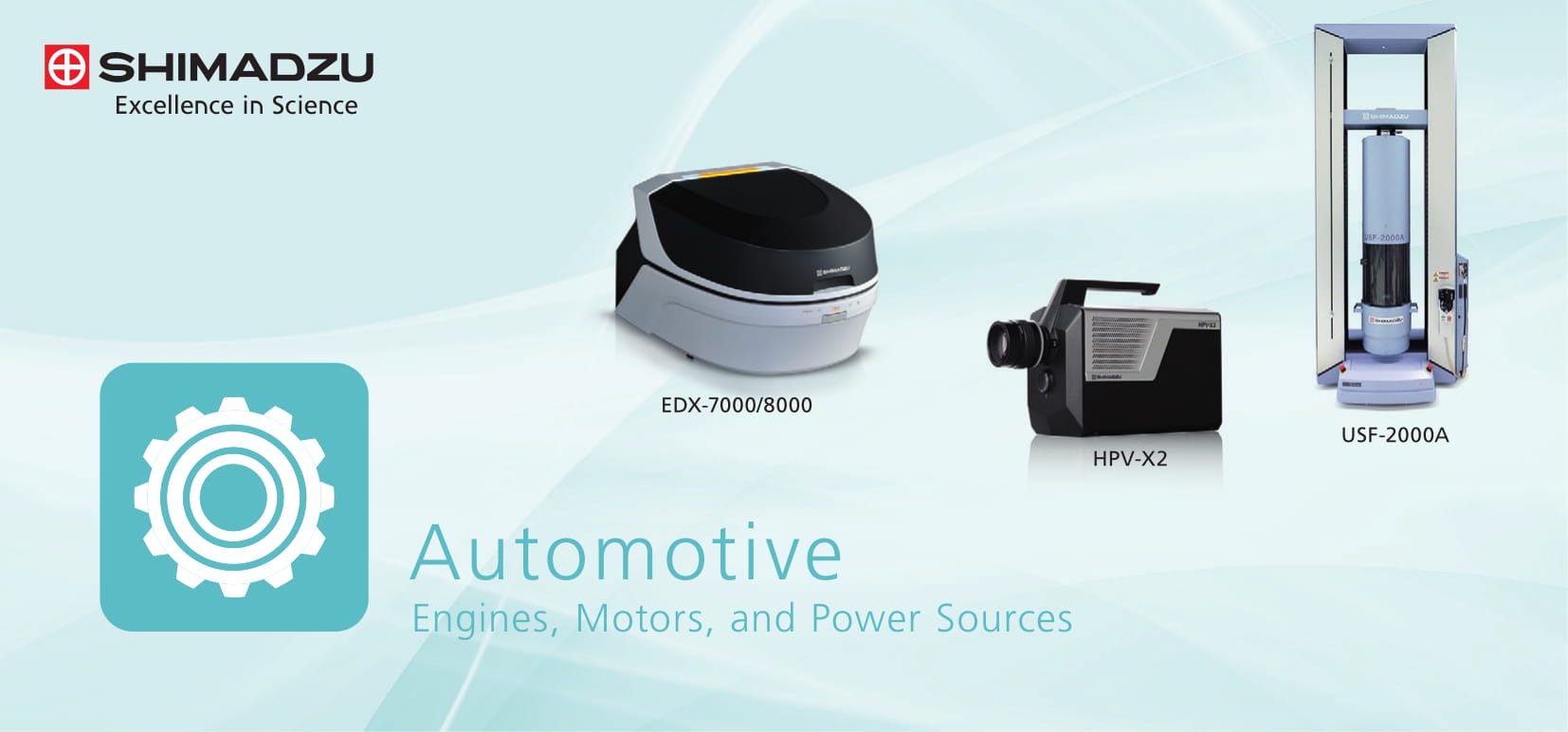 Find your solutions for Automotive industry.




We offer numerous applications for analytical and testing areas.
Micro hardness tester are indispensable instruments for hardness evaluation, including surface composition, surface quenching layers, and machining transformation layers in R&D and Quality control.
Many high-speed phenomena occur in the field of automobiles. These include the observations and analysis of the fuel injection process to assist the development of low-fuel-consumption engines. The HPV-X2 can take 256 consecutive images at up to 10 million frames per second at up to 100-kpixel resolution to meet the demands for observing high-speed phenomena, such as fuel injection.
Using an ultrasonic fatigue testing system equipped with an average stress loading mechanism, gigacycle fatigue test can be performed with an average tensile stress loaded.
USF-2000A Mean Stress is ideal and unique system in this area.
The EDX-7000/8000 Series is the ideal instrument for those interested getting the elemental composition of their sample. The technique itself is non-destructive and allows measurements of solid as well as liquid samples. Within seconds customers know kind of concentration of metal abrasions in automotive fluids or able to determine the concentration of S in oil.
Servopulser E Series Fatigue/Endurance Testing Machines:
This standard series, typical of the lineup of Shimadzu electrohydraulic servotype fatigue testing machines, boasts an extensive track record and consistent performance. It can cover static testing to fatigue tests.
Internal Pressure Fatigue Testing of Pipes etc.
This testing machine can apply loads using a sine wave of max. 10 Hz and max. pressure of 250 MPa on pressure sensors and pipe materials. To raise the number of test cycles, the internal generator is designed in a nonsealed structure, and the gap between the pressure intensifier and special surface treated plunger is controlled to several μm.