Advanced Flow Technology Series for More Accurate Identification and Higher Productivity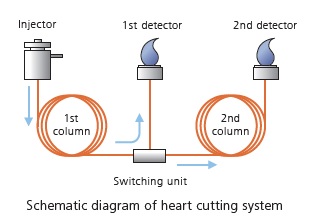 The complete separation and quantitation of specific compounds can be difficult in samples that contain many compounds. In such complex matrices, a heart-cut system using two columns with different separation characteristics can be employed to efficiently separate and quantitate specific compounds.
The Shimadzu heart-cut system is a single-oven model that features the switching device from the MDGC/GCMS-2010 Series, which offers maximum separation capacity.
We recommend this system in situations where the high separation of the MDGC/GCMS-2010 Series is not required.
Major Applications
Analysis of specific components in a sample containing multiple matrices
Petrochemicals (gasoline, light oil, kerosene, etc.) -> Analysis of Bioethanol Using the Heart-Cut System
Fragrance analysis (foods, drinks, etc.)
Optical isomers
Separation analysis of minute peaks hidden by major components
Fine chemical products
Impurity analysis in raw ingredients
Analysis of harmful components in environmental samples
Dedicated software to easily set complex analytical conditions
Dedicated software makes it simple to set the separation conditions and switching timing for the target components. Operation synchronized with GCsolution and GCMSsolution also allows efficient GC/GCMS setup.
Advanced Flow Technology Software is available for free. Visit download site.
* Since the heart-cut system consists of a single oven, it does not allow the programming of each oven temperature independently, unlike the multi-dimensional system.
* The 2nd column's temperature is the same as the 1st column. The separation performance of the heart-cut system may be inferior to that of the MDGC/GCMS-2010 Series because the heart-cut system cannot optimize the temperature setting for the 2nd column.
This page may contain references to products that are not available in your country.
Please contact us to check the availability of these products in your country.