IR Solution - Control Software
IRsolution FTIR control software supports FDA 21 CFR Part 11 compliance and provides a high level of security. It also includes validation software compliant with JP (Japanese Pharmacopoeia), EP (European Pharmacopoeia), and ASTM (American Society for Testing and Materials) requirements (provided resolution is 2 cm-1for JP and EP) and a function that automatically recognizes attached accessory equipment.
The functionality of Version 1.40 has been increased significantly. It now includes, as part of the standard software, a Contaminant Analysis Program, which provides powerful support for contaminant analysis, and a Japan PharmaReport Program.
It also offers a family of optional software programs that further increase the scope of applications.
Wide Assortment of Measurement Functions
Normal integration mode
Evaluation Scan mode only integrates valid data
Continuous Scan mode keeps measuring data continuously
Atmosphere correction scan mode automatically eliminates the effects of moisture and carbon dioxide in the atmosphere.
Self-diagnostic function and status monitor
Automatic accessory recognition function
Wide Assortment of Data Processing Functions
Peak detection, difference spectra, Kubelka-Munk transform, ATR correction, and library search
Quantitative calculation/multi-point calibration curve method, multilinear analysis quantitation method, and PLS quantitation method
Report generator allows printing out results using freely customizable layouts
Japanese Pharmacopoeia, European Pharmacopoeia, and ASTM compliant validation program
Contaminant Analysis Program
Japan PharmaReport Program
Supports FDA 21 CFR Part 11
Compatible with CLSS-Agent Version 2 network tool for database management and registration
Software security and log function with user name and password
Electronic signature
Raw data preservation (including pre-Fourier transformation interferogram and background spectra)
Data processing history
Instrument audit trail
Atmosphere Correction Scan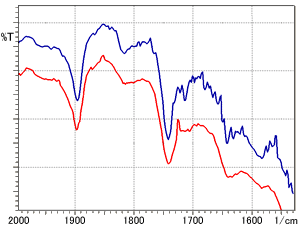 Using the Atmosphere Correction Scan mode automatically eliminates the effects of moisture and carbon dioxide in the atmosphere. Easily measures even small peaks in the 4000 - 3100 cm-1and 2100 - 1300 cm-1ranges, where peaks can overlap with water moisture.
On the left is an example of using the atmosphere correction function to eliminate moisture and carbon dioxide from a spectrum.
Blue: Spectrum before removal
Red: Spectrum after removal
(shown with baseline shifted)
This page may contain references to products that are not available in your country. Please contact us to check the availability of these products in your country.