LabSolutions DB/CS for ICPMS-2030
Networking and FDA 21 CFR Part 11 Compliance. LabSolutions DB/CS ICPMS provides compliance for regulations concerning electronic record keeping and electronic signatures required by FDA 21 CFR Part 11 and other regulations stipulated by Japan's Ministry of Health, Labor and Welfare (ERES regulations). Additionally, since the software supports laboratory networking, analytical results from a broad variety of analytical instruments used in the laboratory, including LC, LCMS, GC, GCMS, UV, FTIR, RF, EDX, TOC, and PPSQ, can be managed centrally from a server.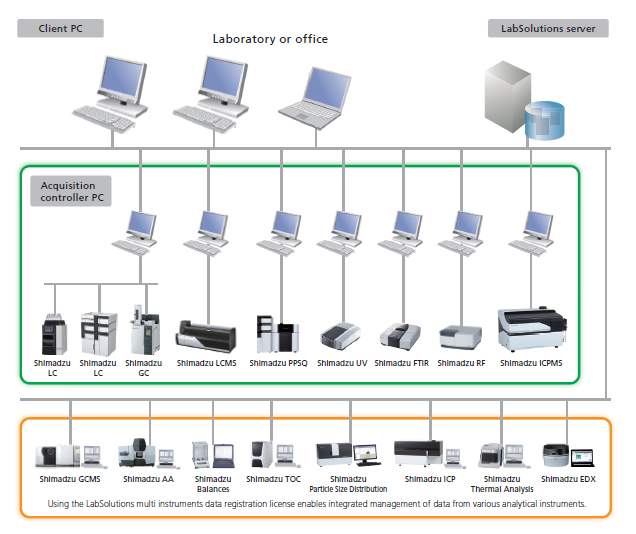 Data Management Methods Available Depending on the System
Network System: LabSolutions CS
LabSolutions CS can freely access all instruments on the analytical network, so that all analytical data is managed on the network server and the data can be loaded to any computer connected to the network. This is especially recommended for customers that have many users and want to manage data on a server together with LC, GC, FTIR, UV, RF, EDX, TOC, PPSQ, and other data for ER/ES compliance.
Standalone Database System: LabSolutions DB ICPMS (option)
This configuration does not require a network connection and is ideal for customers that want to manage all data on one computer for ER/ES compliance only for a standalone system.
System Contents
Network system LabSolutions CS
LabSolutions ICPMS, LabSolution CS Connection Kit, LabSolutions CS

Standalone database system

LabSolutions

DB ICPMS

LabSolutions ICPMS, LabSolution DB Connection Kit
For Research Use Only. Not for use in diagnostic procedures.
This page may contain references to products that are not available in your country.
Please contact us to check the availability of these products in your country.