Automatic Extensometer SIE-560 [Standard Type] / 560S [High-Precision Type]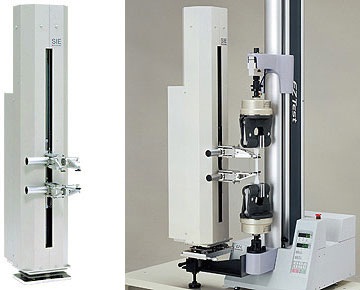 Automatic extensometer mounted on EZTest Compact Tabletop Tester
Extensometer with Many Automatic Operation Functions and High Measurement Precision
In strength testing, measurement of the elongation amount is an important factor for obtaining strength characteristics together with measurement of test force. A typical purpose of measuring elongation is to measure the range of small elongation amounts (elastic region) to obtain the modulus of elasticity. Whereas, the region of large elongation amounts (plastic region) is measured to obtain elongation when the specimen breaks. This new extensometer is equipped with both of these functions.
[Features]
Many Automatic Operation Functions
Functions for automatically detecting the center position of the upper and lower grips, automatically returning to the preset position between gauges, automatically removing the specimen after testing ends, and other functions ensure that daily work can be conducted with ease.
High Measurement Precision
High precision is ensured by a high-precision magnetic induction linear sensor, ultra-high precision strain gauge type sensor (on SIE-560S only), and newly developed digital strain engine.

■ SIE-560S (High-Precision Type)
Compatible with measurement of modulus of elasticity in accordance with Plastic JIS K7161, 7162 and ISO 527-1
JIS B7741: Class 0.5, ISO 9513: Class 0.5
ASTM E83: Class B compliant

■ SIE-560 (Standard type)
JIS B7741: Class 1, ISO 9513:Class 1
ASTM E83: Class C compliant

Designed for Ultimate Operation Ease
The extensometer can be operated by the TRAPEZIUM software running on Windows to improve work efficiency. A smart controller enables one-touch operation close at hand. (when the smart controller is attached)
[Specifications]
Model
SIE-560
SIE-560S
Measurement range
Max. 560 mm
Small range: Max. 4 mm
Large range: Max. 560 mm
Measurement principle
High-precision magnetic induction linear sensor
Small range: Ultra-high precision strain gauge type sensor
Large range: High-precision magnetic induction linear sensor
Measurement precision
0.5 % or less or ±2.5 µm of indicated value, whichever is larger
0.5 % or less or ±1 µm of indicated value, whichever is larger
Gauge length
10 mm to 550 mm
50 mm (can be optionally changed to 10 to 40 mm)
[Evaluation Targets]
Steel, Aluminum, Plastics * Applicable sizes are determined separately.
* Appearance and specifications are subject to change without notice.
This page may contain references to products that are not available in your country.
Please contact us to check the availability of these products in your country.