TRViewX is an advanced non-contact extensometer that offers high-measurement accuracy, is capable of measuring width changes, and is applicable to a wide variety of materials testing applications. In particular, due to the non-contact design, TRViewX is perfect for measuring films, foils, and other thin or narrow materials without affecting the specimen during testing. Furthermore, TRViewX can be used to measure displacements during atmosphere-controlled testing in a thermostatic chamber. TRViewX provides high-accuracy measurements in accordance with ISO 9513 Class 0.5 and JIS B 7741 Class 0.5 for elongation measurements and ISO 9513 Class 1 and JIS B 7741 Class 1 for width measurements. It is compliant with plastic tensile testing standards, including ISO 527, JIS K7161, and ASTM D638, even supporting 75 mm gauge length specimens (type A1 specimens) specified in ISO 527 and JIS K 7161.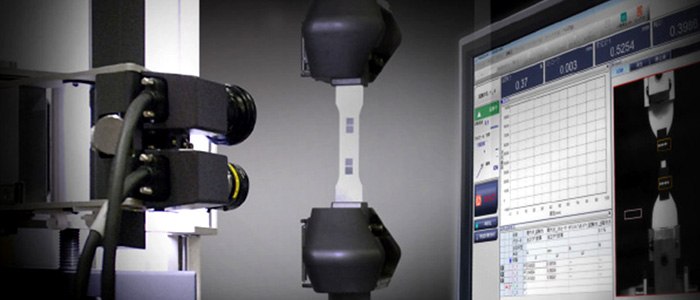 Advanced, World Leading Non-Contact Extensometer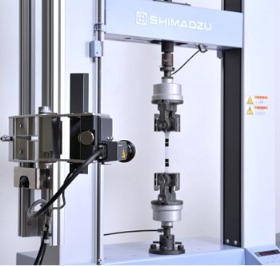 High-Accuracy Elongation Measurements
Absolute accuracy ±1.5 μm, relative accuracy ±0.5% at room temperature
(ISO 9513 Class 0.5 and JIS B7741 Class 0.5)
Absolute accuracy ±3 μm, relative accuracy ±1.0% for in-chamber testing
(ISO 9513 Class 1 and JIS B7741 Class 1)
Width Measurement Functionality
Absolute accuracy ±2 μm, relative accuracy ±0.5% at room temperature
(ISO 9513 Class 1 and JIS B7741 Class 1)
Enables Lankford (r).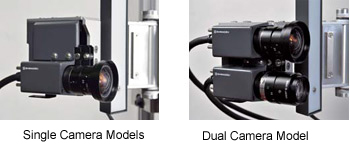 Single and Dual Camera Models
A consequence of the range of field-of-view lens available, 55 to 800 mm, TRViewX supports measurements ranging from micro-displacement measurements to long-stroke measurements. In addition, dual camera models enable high-accuracy elastic modulus measurements with a 120 mm field-of-view lens, as well as high-elongation specimen failure displacements with the up to 800 mm field-of-view lens.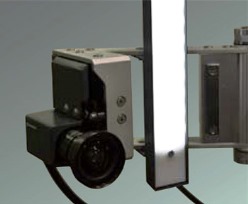 High-intensity LED Lighting System
Thanks to a high-intensity LED lighting system, the impact of ambient lighting is minimized, improving measurement accuracy.
The intensity of the lighting system can be regulated using Trapezium X testing software, so optimum lighting can be achieved to suit various types of specimens.
To better measure large elongation specimens, up to four LEDs can be positioned around the sample.
Complete Integration with Trapezium X Testing Software Simplifies Operability

The complete integration with easy-to-use Trapezium X testing software simplifies operation and enables images to be included in reports.


Simply select TRViewX testing conditions to set the measurement mode.
All operations from start to finish of the test can be controlled by the software.
TRViewX measures the actual gauge length when testing starts.
For Research Use Only. Not for use in diagnostic procedures.

This page may contain references to products that are not available in your country.
Please contact us to check the availability of these products in your country.